Are you looking for a delicious and nutritious breakfast that you can prepare the night before and enjoy in the morning? Look no further! This roundup of the best overnight oats recipes has something for everyone – from fruity and sweet to savory and salty. With these recipes, you can start your day off right with a healthy and filling breakfast that was prepped the night before. Keep reading to discover the best overnight oats recipes!
Chocolate Orange Overnight Oats
These chocolate orange overnight oats are the best! They are so easy to make and this healthy oatmeal recipe tastes like Terry's chocolate orange. This recipe is dairy-free, gluten-free, and vegan and made with pantry staple ingredients including rolled oats, cocoa powder, maple syrup, and coconut milk.
Overnight Oats with Protein Powder
This is the best overnight oats with protein powder recipe. These protein overnight oats are easy to make and perfect for meal prep. They taste amazing and are high in protein with 34 grams of protein per serving! Made with rolled oats, peanut butter, flaxseeds, protein powder, and maple syrup, they're a simple, healthy breakfast or snack.
Lemon Blueberry Overnight Oats
Most people think they must give up their favorite foods before eating healthily. But that's not always the case! You can make delicious, nutritious meals using simple substitutions and creative recipes. For example, this lemon blueberry overnight oats recipe is a great way to enjoy your favorite flavors while protecting your waistline.

Add a new star to your breakfast lineup with this Peanut Butter Overnight Oats recipe. It's ready in just 4 steps, is made with entirely clean ingredients, and is perfectly nutty and naturally sweet.

Are you ready for a bowl of morning glory overnight oats that are filled with apples, carrots, coconut, and raisins? This nearly hands-off breakfast recipe is insanely delicious and loaded with flavors and textures. It's the perfect meal when you're on the run and want something more substantial than a coffee shop muffin!

Meet apple pie overnight oats – an easy and absolutely scrumptious make-ahead breakfast! The vanilla maple overnight oats take just minutes to whip up and the sauteed cinnamon apple pie topping is to die for. It'll be your new favorite meal prep breakfast, I promise!

These overnight oats are packed with nutrient-dense chia seeds! The recipe calls for four simple ingredients and they are delicious & easy to make!
This simple vanilla overnight oats recipe is perfect for a nutritious breakfast on busy mornings. Stir a few simple ingredients like Greek yogurt, whole oats, and chia seeds up in a mason jar in the evening, and you will have a delicious breakfast waiting for you the next morning.
Carrot cake for breakfast? Why yes! These Carrot Cake Overnight Oats are a simple, hearty way to start your morning. Prep your oats at night in just 5 minutes and breakfast is ready on the go. Make enough for the whole week in no time. So easy!

These are the dreamiest peach crisp overnight oats that will remind you of your favorite dessert! The juicy peaches pair perfectly with the crispy pecans and smooth buttery, creamy oats. Make these the night before or a few hours in advance for an incredible breakfast.

Strawberry Cheesecake Overnight Oats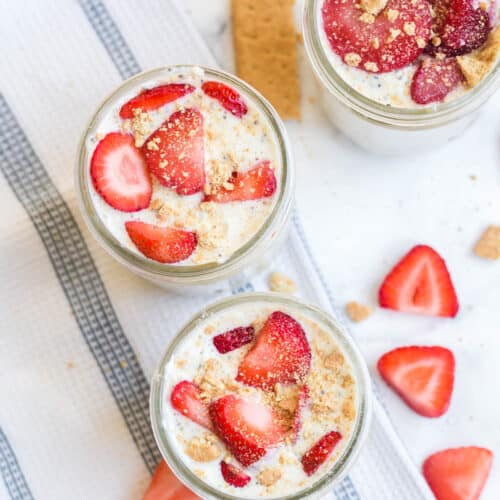 This Strawberry Cheesecake Overnight Oats Recipe makes a delicious, quick breakfast for meal prep. They're high in protein, gluten-free and AMAZING.
Mango overnight oats – an incredibly easy to make breakfast and an easy way to start the busy day. Delicious overnight oats flavoured with mango pulp and topped with raisins and nuts makes a great breakfast that doesn't require cooking on mornings. All it needs is just a few minutes to assemble soaked oats, mango pulp and toppings.

Breakfast or dessert? You decide! This wholesome bowl of vegan snickers overnight oats has the delicious flavors of the famous candy bar but in a much more filling and healthier format. The best of both worlds!
Get your caffeine fix in overnight oatmeal form! These chilled, creamy Coffee Overnight Oats are super quick and easy to make and are a great way to use up leftover coffee in your pot!
These birthday cake overnight oats are vegan, gluten-free, and made with healthy ingredients. No yogurt is needed for these oats to have a thick, creamy texture. They have such a delicious cake batter flavor that is irresistible! This recipe is so easy to make, and you can enjoy the oats for breakfast all week long.
Pumpkin Dairy-Free Overnight Oats Recipe (Vegan)
If you're looking for an easy, healthy breakfast with fall flavor, that will keep you full all morning long, try these pumpkin pie spice overnight oats.
Banana Coconut Cream Pie Overnight Oats
Creamy, sweet, DELICIOUS Banana Coconut Cream Pie Overnight Oats! Make this easy vegan, gluten-free, and dairy-free breakfast in about 5 minutes and take it with you on-the-go the next day!
Raspberry overnight oats are an easy, make ahead breakfast with fresh or frozen raspberries, peanut butter, almonds and yogurt. This is the perfect way to start your day and keep you full until lunch–and it only takes ten minutes to prep!
PB&J Overnight Oats (gluten free, vegan)
This PB&J Overnight Oats recipe is perfect for meal prep! It is plant-based and gluten free. Feel free to add any fruit or nut butter of choice!
Pumpkin overnight oats are a perfect breakfast or afternoon pick-me-up, especially in the cool autumn months. This vegan overnight oats recipe is high in nutrition and will keep you full and satisfied throughout the day!
An overnight oatmeal recipe playing homage to the classic oatmeal raisin cookie. Rolled oats, almond milk, maple syrup and raisins with some skyr or Greek yogurt. The perfect cookie lover breakfast!
Strawberry Rhubarb Overnight Oats
Strawberry Overnight Oats made with fresh spring rhubarb is like strawberry rhubarb pie for breakfast minus the pastry. Sweetened with only a touch of honey and topped with Greek yogurt you will fall in love with this springtime breakfast treat!